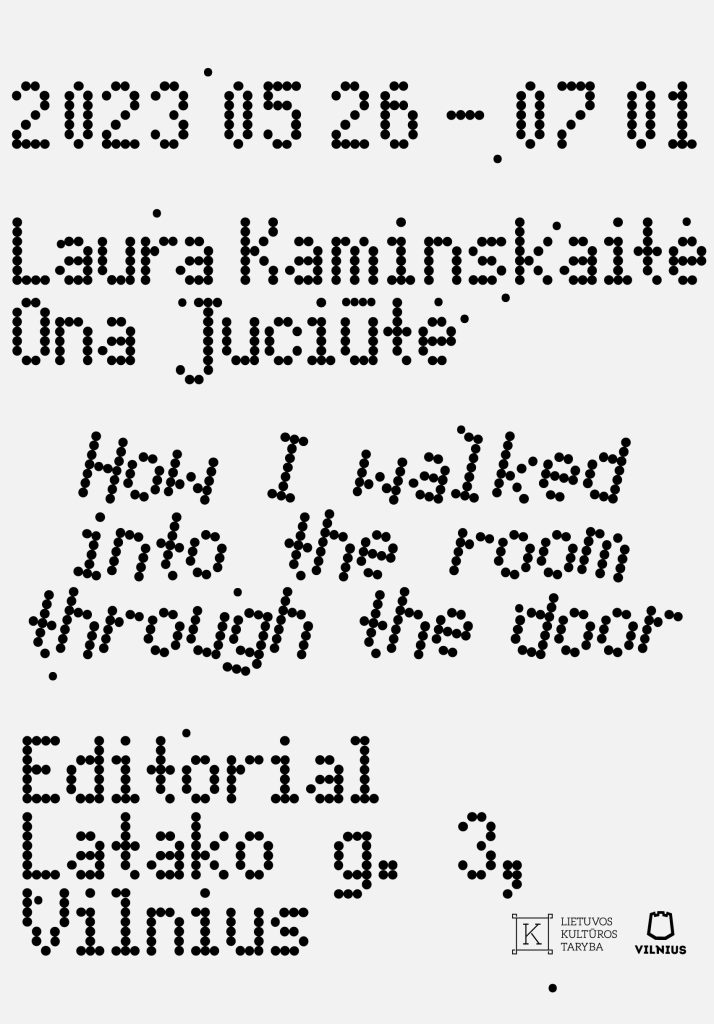 Editorial is delighted to invite you to a first duo show of Lithuanian artists Ona Juciūtė and Laura Kaminskaitė, titled How I Walked Into the Room Through the Door, opening May 26, 6 pm.
Today is Friday, 26 May 2023, but it could easily be one of the days of late May 1999, the prelude to the last summer of the millennium, a summer that now barely emerges in our memories, a summer tormented by self-absorption, when the uneasy anticipation of an uncertain future stretched the days to infinity, at the same time insistently suggesting to take advantage of what might be the last opportunity to do nothing. Indeed, stepping through the imaginary portal of the millennia promised to have alarming analogue consequences: many of the electronic devices of the time, on which we increasingly relied in all areas of our lives, operated in the format of a two-digit year (99 meaning 1999); thus, in theory, with the first second of the new millennium, their systems should have reverted back to some obscure beginning—the year 00 or 1900. In other words, everything should have stopped working: public transport timetables disrupted, mobile phones erasing newly received information as obsolete, factories producing only expired products, and taxi dispatchers burning out from calls about cars not showing up or passengers not waiting for a ride.
In 1999, we were teenagers and we genuinely wanted to witness Pandora's box opening and the world beginning to fall apart. And it was not because we had been opposed to the system since childhood—we were rather just excited to be part of a film that we knew so well from our TV screens, a film permeated with action, smelling of melting microchips, and, as we had already learned, destined to end well anyway. Of course, this ending never came, because it soon became clear that there was not even a beginning. The millennium portal closed, people only thought they could have had spent that previous summer more productively, and the countries that had invested the most money in protecting their computer systems realised to have won and lost just as much as the countries that had invested a sheer zero.
The exhibition How I Walked Into the Room Through the Door by Ona Juciūtė and Laura Kaminskaitė has something in common with the power of events that never actually took place to leave lasting traces in our lives. The show can be imagined as a situation (or a device?) for the events that did not happen to continue indefinitely, where individual works—drawings, texts, light inscriptions and objects—become the circumstances of this situation and the instigators of our expectations. After all, every exhibition holds the promise of transforming the space and time in which it takes place into something more, something that has never existed before. Similarly, the established values of objects are inevitably distorted in the face of big endings. How I Walked Into the Room Through the Door merges these two situations of change in the value of objects, but offers neither a clear beginning nor an end; thus, these situations turn the exhibition into a never-ending event generating forms and meanings.
– Edgaras Gerasimovičius
Ona Juciūtė is a Vilnius-based artist, curator and scenographer. She has held solo exhibitions at the Editorial project space in Vilnius and the Contemporary Art Centre Derry~Londonderry in the UK. She has also presented her work in group exhibitions at the MOCAK Museum in Krakow, Contemporary Art Centre in Vilnius, the parallel programme of the Istanbul Biennale, National Gallery of Art in Vilnius, Kaunas Artists' House, and several other art institutions in Vilnius, including Atletika Gallery, Rupert Gallery, and the Swallow project space. Juciūtė has participated in the residency programmes AIR Niederosterreich in Austria, Stiftung Kuenstlerdorf in Germany and Diyalog Istanbul in Turkey. In 2021, her sculptures were incuded in the permanent collection of the Kiasma Museum of Contemporary Art in Helsinki. She is the recipient of the JCDecaux Prize 2016 as well as the prize established by the American artist of Lithuanian origin Aleksandra Kasuba. Ona has created scenography works for the National Drama Theatre and the Youth Theatre in Vilnius. Besides her personal creative practice, she also teaches sculpture at the Vilnius Academy of Arts and is co-curator of the JCDecaux Prize exhibition since this year.
Laura Kaminskaitė is a Vilnius-based artist who creates invisible events through objects and language, evoking exhibitions, scenarios, and narratives in the minds of the viewers, readers, and listeners. Kaminskaitė has recently exhibited her works in solo exhibitions, including Double Double, Contemporary Art Centre, Vilnius (2021); Today is the Colour Day Meets at Day (with Antanas Gerlikas), P////AKT, Amsterdam (2018); Today , Editorial, Vilnius (2017); Turn Smile Laugh Sashay Conversation Smile Laugh Spring Up Smile Laugh Talk, Podium, Oslo (2017); Something Something, Vermilion Sands, Copenhagen (2016). Her works have been presented at the 12th Kaunas Biennial (2019), the 12th Baltic Triennial (2014-2016) and in multiple group exhibitions in Prague, Vilnius, Amsterdam, Athens, Riga, Munich, Helsinki, Oslo, Bergen, Malmo, New York, Vienna, Moscow and Rome, among other cities. Laura also regularly works as exhibition designer and collaborator in artistic projects both in Lithuania and abroad.
Exhibition curator: Edgaras Gerasimovičius
Exhibition design: Nerijus Rimkus
Translation of the text: Alexandra Bondarev
The show will run until July 1.
Supported by the Lithuanian Council for Culture and Vilnius municipality
Special thanks to: Vitalija Jasaitė, Neringa Černiauskaitė, Edgaras Gerasimovičius, Nerijus Rimkus, Monika Kalinauskaitė, Marekas Voida, "Arial Ink", Rytis Urbanskas and Liudvikas Kensminas, "Neonita", Živilė Jolanta Kaminskienė, Valdas Jucius, Lina Blauzdavičiūtė, Aistė Marija Stankevičiūtė, Ieva Kotryna Ski, Vilius Vaitiekūnas, Tomas Meleška, Marius Ladyga, Antanas Stanislauskas and all friends
Photography: Editorial
Go back to the main page