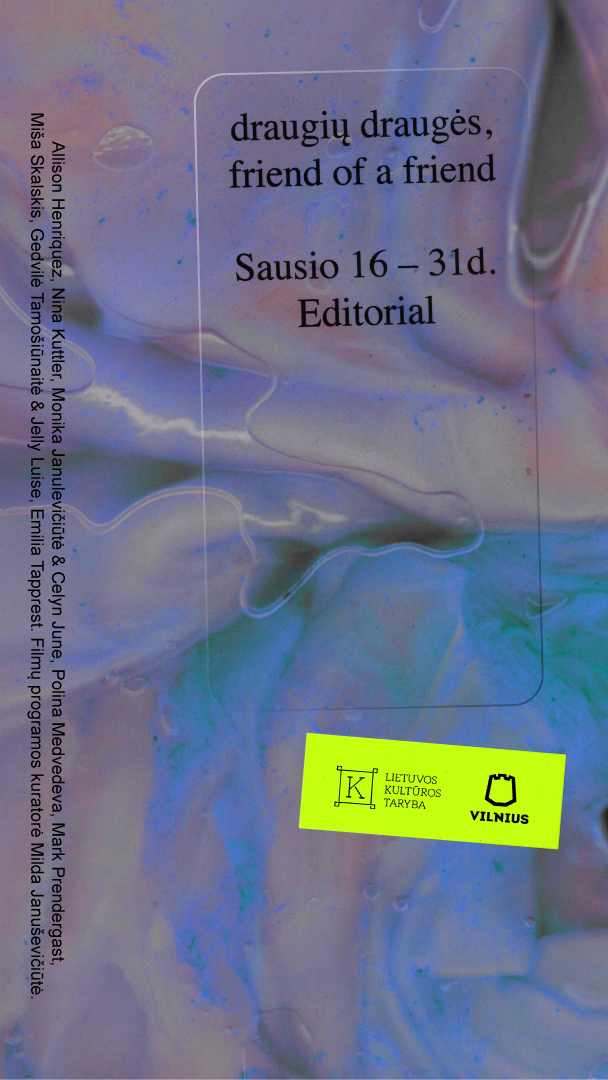 Dear friends,
Hope everything is well. We would like to invite you to a video screening programme "friend of a friend". Delving into beautiful and dark, clear and fragile, seashells and voices, animals and dreams, playfulness and sight, rough but honest conversations, delusions and intimacies, mazes and memories.
𝟏𝟎𝟎𝟎 𝐦𝐨𝐮𝐭𝐡𝐬 Nina Kuttler
𝐃𝐫𝐨𝐧𝐞𝐰𝐚𝐥𝐤𝐢𝐧𝐠 Gedvilė Tamošiūnaitė & Jelly Luise
Яко человеколюбец Miša Skalskis
𝐍𝐨𝐜𝐭𝐮𝐫𝐧𝐚𝐥 𝐌𝐨𝐭𝐢𝐨𝐧 Allison Henriquez
𝐒𝐞𝐞𝐧 𝐎𝐧𝐞 Mark Prendergast
𝐒𝐨𝐧𝐳𝐚𝐢 𝐙𝐨𝐧𝐞 Emilia Tapprest
𝐒𝐰𝐢𝐭𝐜𝐡𝐛𝐥𝐚𝐝𝐞 𝐆𝐫𝐚𝐬𝐬𝐥𝐚𝐧𝐝 Monika Janulevičiūtė & Celyn June
𝐓𝐡𝐞 𝐂𝐡𝐚𝐦𝐩𝐚𝐠𝐧𝐞 𝐃𝐫𝐢𝐧𝐤𝐞𝐫𝐬 Polina Medvedeva
Curated by Milda Januševičiūtė
Program (135min) screening:
Thursdays from 𝟏𝟗𝐡
Fridays from 𝟏𝟗𝐡
Saturdays from 𝟏𝟒𝐡
"Editorial" (Latako St. 3, Vilnius)
Design by Monika Janulevičiūtė
Programme:
Nina Kuttler 7:15
Mark Prendergast 5:14
Gedvilė Tamošiūnaitė 8:17
Allison Henriquez  3:22
Emilia Tapprest 23:14
Miša Skalskis 23:00
Monika Janulevičiūtė 11:11
Polina Medvedeva 53:05
NINA KUTTLER
1000 MOUTHS, 7'15, 2019
We never made this place.
We only discovered it.
1000 mouths was filmed in Margate, UK, in the remains of what is thought to be the largest Shell Grotto England's. In a choral speech local myths merge with facts about the shell specimen used in the mosaic pattern and assumptions on the various and inconsistent religious symbols in the Grotto.
Besides the air, the sand and the sea, there's a feudal hierarchy of leftover humanity.
The brilliant smell of water and the vulgar flavour of shrimps float unbidden in the air.
With sharp break edges, broken crisp-edged holes, we would be fragmented to some degree.
Some of the shells are oval or pear shaped, white, yellowish or cream in colour, 
with a rough surface showing pale brown or bluish concentric bands. 
The inner surface is smooth, whitish or bluish-grey. 
They have a unique tannic seawater flavour, dry and metallic.
Nina Kuttler is an artist who writes and reads, based is Hamburg, Germany. In her work cultural knowledge and mythologies become entangled with forms of scientific research to build their own narrative. Rhythmic speech and an observing camera are tools to investigate the conditions of the environment we inhabit.  In 2019 she was a resident of IKSV Istanbul, was awarded the Encouraging New Talent Award by HfBK Hamburg for her graduation work and nominated for Hiscox Price for young Artists. In 2018 she was a fellow of Tandem scholarship for artistic research by the German Federal Environmental Agency and has collaborated with the German Specimen Bank.
MARK PRENDERGAST
SEEN ONE, 5'14, 2019
Seen One (2019) documents the birth of a mode of seeing. It contemplates how crucial the way you see is to the process of meaning making. This work is a precursor to a larger body of work entitled EYE FALL (2019) which will be shown at CAC in February as part of the Are We Closing? show.
Mark Prendergast (1988) is a British artist and filmmaker. Drawing on his experience rethinking, reformatting and producing new visual strategies within the field of contemporary visual culture, his practice is deeply rooted in how moving images are made, with what tools, and how they function. His experiments are underpinned by a fluent understanding of the tools he uses, enabling them to propose new and subjective ways of using technology before these languages are co-opted and ossified by wider power structures.
GEDVILE TAMOŠIŪNAITĖ AND JELLY LUISE
DRONEWALKING, 8'17, 2019
A lone point of view drifts in the empty canyons of a small north Italian village. With robotic precision, this hovering and recording object appears to fulfil an obsessive routine, as it loops along the same alleys time after time, without apparent intention of investigating or following any specific target. In crisp awkwardness, several voices describe sensations of pain and pleasure, of violence, warmth, panic and intimacy. Those are fragments of dreams, recorded in a communal effort of 13 people over the course of 7 days in the small village of Pellio, Italy. An angsty panning around corners, reminiscent of GTA or other simulated yet uncannily realistic environments in video games, implements a certain vulnerability: a nod to the dilemma of whether we are to inhabit, receive or control the conscience of this vision. The threshold between the real and a simulation becomes increasingly blurred by an apparatus that represents either, be it in a warzone or in a dream.
Gedvile Tamosiunaite  (b. 1990, Siauliai, Lithuania) is a photographer currently completing an MA at ÉCAL, Switzerland. Gedvile's creative practice is inspired by the relationship between digital and physical spaces and their influence on human behavior. Her research investigates .jpegs and their visual language as well as the psychological effects of contemporary photography. Gedvile works on various personal and commissioned projects as a photographer and creative director.
Jelena (Jelly) Luise (b. 1993, Germany, Serbia), is a photographer and artist currently based between London, Berlin, and Lausanne. Her practice is informed by transit and restlessness in the face of contemporary reality and often questions bodies of power. Their work has been shown in various exhibitions as well as in online and print publications. Jelly is currently working on diverse personal and commissioned projects as well as developing upcoming reading groups, raves, and performances.
ALLISON HENRIQUEZ
NOCTURNAL MOTION, 3'22, 2019
Nocturnal motion explores the enigmatic nature of Deer's and how they've captured the collective imagination with their metaphorical essence. In many cultures, a Deer is a symbol of spiritual authority. One of the reasons for this could be its physical characteristics – its gaze, its agility, its speed and its antlers— which inspire those values and symbols in the imagination of humans. A sacred animal with the spirit of gentleness and softness, a messenger, a shaman; maize and femininity personified.
Allison Henriquez is a poet, video artist. She is presently pursuing a Master's degree in moving image at Sandberg Instituut. She has worked International Film Festival Rotterdam for a number of years. Her practice seeks to examine the relation between poetry, the moving and sound. Currently she is interested in exploring poetic memory, a practice which eschews conventional notions of linearity and accuracy in order to uncover the human subjects intricate relationship with a past that cannot fully be known.
EMILIA TAPPREST
SONZAI ZONE, 23'14, 2019
Sonzai Zone (2019) is a speculative fiction film on intimacy and loneliness after the normalization of ambient communication media. An unlikely encounter between Yún and Souvd takes place in a near-future where social interactions are largely based on the mediation of human presence, known as 'Sonzai-kan'. Shifting between XR games, Immersion Arcades and spatial home displays, their insidiously orchestrated relationship escalates into extreme idealization. Meanwhile, Souvd's ex-girlfriend Ntzumi launches into undercover investigation.
Director: Emilia Tapprest
Producer: NVISIBLE.STUDIO
Main casts: Dasha Golova, Taro Yamada, Annamaria Merkel
Music: Leevisa, Alex Ortiga, ssaliva, David Stevens, Olivier Demeaux, SHXCXCHCXSH
Coming from the background of interactive prototyping and new media, Emilia Tapprest (NVISIBLE.STUDIO) completed her master in film at the Sandberg Institute in Amsterdam in 2019. With an early interest in ubiquitous computing and ambient intelligence as objects of design, her focus has shifted to investigate visceral implications of emerging technologies and novel power arrangements in society at large. Her present practice is situated between design-ethnographic field research and the production of speculative fiction films in close collaboration with artists and experts around the world.
MIŠA SKALSKIS
Яко Человеколюбец, 23', 2019
It is a coming-of-age story that is always beginning for an 80-year-old woman from Eastern Europe, who is suffering from Alzheimer's. Her grandchild is helping to trace and remember the fairy-tale journey across the Puglia region in Italy. It's real. It's not real.
Image, text & sound by Miša Skalskis
Voice over by Anni Puolakka & Anna Maria Łuczak
Additional music by Алексей Рыбников, Olivier Messiaen
Мiša Skalskis is a video and sound artist, living between Rotterdam and Helsinki. Their latest works focus on modes of autobiographical narration, nostalgia and its relationship with fiction. Miša holds an MFA from Sandberg Institute in Amsterdam. Their work was shown at Ehkä (Turku), CAC (Vilnius), Sonic Acts (Amsterdam), Sorbus Gallery (Helsinki), the Community (Paris), Gemak (the Hague).
MONIKA JANULEVIČIŪTĖ AND CELYN JUNE
THE SWITCHBLADE GRASSLAND, 11'11, 2018
The Switchblade Grassland Highway cut across the dwelling. Generally, the Mundane, the Uneventful would be perceived as some kind of string, a filler towards more obvious instances, occasions, singular happenings. There is an ambition to look closely, hover above and avoid being ultimately guided by entertainment. Everything is still ringing, droning when you are not looking, when you are upstairs or away — nothing is asleep or empty.
SWITCHBLADE GRASSLAND was created by Monika Janulevičiūtė in close collaboration with the musician Celyn June. This film is a part and extension of Celyn June's release called "Portion Park", on W-I. 2018
Monika Janulevičiūtė is an artist and graphic designer working on broad spectrum of projects, that usually explore realities and belonging.
POLINA MEDVEDEVA 
THE CHAMPAGNE DRINKERS, 53'05
Shot in her hometown of Pskov in western Russia, her 2015 film The Champagne Drinkers: Russia's Informal Economy from the Back Seat of a Taxi takes its title from the Russian proverb: "One who doesn't take risks doesn't drink champagne." The film follows over a dozen of the city's unlicensed cab drivers, many of whom began using their cars as taxis after the dissolution of the Soviet Union and the closure of area factories. The illegal practice is now so widespread that one driver claims "every second person is a taxi driver." These men and women chat about their lives and work with Medvedeva as she captures their conversations from the back seat. Her interviews last as long as each ride, and these interactions shed light on the precarity of their work with poignancy and humor. In her film, Medvedeva also interacts with other locals, including an Orthodox priest facing a heavy debt load, former traffickers of household goods, and a brusque car mechanic, all of whom speak of their struggles with frankness and wry humor. Though the artist shot the film in the midst of the Ukrainian crisis, her subjects nevertheless insist that they would prefer to focus on survival rather than politics. Still, Russia's fraught international position seems to weigh on Pskov's inhabitants, and some drivers use their unofficial network to share news about current events. Medvedeva sees the city's informal economies as offering locals a means of performing small acts of resistance against a repressive government.
Polina Medvedeva is a Russian-Dutch artist, film maker and resident at the Rijksakademie van Beeldende Kunsten in Amsterdam. Her work researches the notion of informality, focusing on informal economies and non-conformist communal structures, their principles influencing the aesthetics of her videos. Medvedeva's works have been exhibited at Stedelijk Museum Amsterdam; Sonic Acts Festival, Amsterdam; WIELS Contemporary Art Centre, Brussels; Lofoten International Art Festival, Svolvær; Lighthouse, Brighton;  Al-Ma'mal Foundation for Contemporary Art, Jerusalem; Inversia Festival, Murmansk; Rotterdam City Theatre; Art Brussels; Centre of Fine Arts Groningen; De Nieuwe Vide gallery, Haarlem and screened during IDFA Docs for Sale and on VPRO among others. She was a guest lecturer at the public school for architecture Brussels, Sandberg Instituut Amsterdam, Gerrit Rietveld Academie, ArtEZ Zwolle, is a tutor and lecturer at the Utrecht School of the Arts.
Go back to the main page